This post is a week late and I'm not really sure what's new to say, but I'm committed to getting something down about the little man once a month.  This marks 3 years and one month.
Night walks.  One recent new thing is an after dinner habit of going for a walk with Daddy down our street with flashlights.  He loves it and I actually joined them tonight checking out our newly re-paved cul de sac.  Best discovery?  There were fun chalk letters written on the road outside neighbor Stella's house.
Halloween.  I asked Remy what he wanted to be for Halloween and he said he wanted to go to Chapel Hill and play basketball.  Considering how infrequently we talk about basketball in our household, this request surprised me.  Gary says he overheard a team of high school boys surrounding a local star talking about where said star was going to play.  Why this interchange is now inextricably linked to Halloween in Remy's brain is a mystery.  I even tested Remy several weeks later and he still wants to be a basketball player for Halloween.  In Chapel Hill.  AND he'd like to go to Halloween right now pleeeeeease.  Halloween's not a place, son, it's a day that comes once a year.
Little pilot.  Another milestone was reached during a recent trip to Nana and Papa's.  Remy went for his first airplane ride!  Not only that, he got to steer the airplane on the runway and help Papa put the plane away.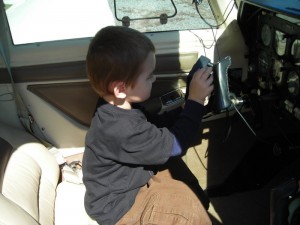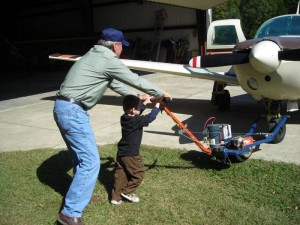 Tractor driving lessons.  Another lesson from Papa this past month was in tractor driving.  Remy got full explication of how the steering wheel caused the front wheels to turn.  The mini engineer was all ears and eyes.  The look of focus and concentration on Remy's face was hard to miss.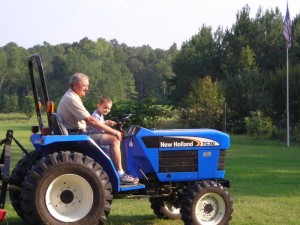 The t-shirt wars.  Speaking of grandparents, Grandpa Crumpler has been religious about making sure Remy has some University of North Carolina gear.  Now Remy has a Purdue t-shirt from Nana and Papa.  Gary and I are ambivalent about the school gear.  I went to Georgia and Gary went to App State and neither one of us holds particular loyalty to our alma maters.
Counting past the teens. Lately, Remy's finally catching on to the counting conventions for 20′s, 30′s, etc.  He's not quite got it all figured out though.  I just pointed to a 25 earlier and asked what number it said.  He replied, "Five-ty two."  We're getting there.
Wrong is funny.  To continue the anecdote above, once he realized that five-ty two was incorrect based on Mommy's earnest corrections, he immediately launched into devilish repetition of the wrong answer.  This is a very funny thing to Remy.  In fact, when playing his video games, he can often be seen deliberately picking wrong answers to get either Curious George to make that funny sound or parroting the character's response that "That's not right!"  Followed by giggling.  If this habit continues once he's in school, a bored Remy is sure to cause all sorts of teacher consternation.
Other than the updates above, he's still in love with the science museum, PBSkids.org video games and yes, he's still nursing.  I plan on getting him weaned before he turns 4.  Really.  I mean it.