As of September 7th, Remy's 3 years old!  Wow.  Here's what we did to celebrate and other stuff about the kiddo.
We didn't have a distinct birthday party for Remy, but I think we did one better by spreading the activities out over several days.  His birthday landed on a Wednesday, which wasn't exactly ideal for my ability to participate.  Yes, I have a flexible work schedule, outside of certain hard-scheduled team meeting days and guess what that Wednesday was?
So we began the birthday acknowledgements on the Saturday prior by meeting up with Nana and Papa at an antique tractor convention that looked a lot like a mini state fair down in Silk Hope, NC.  Remy had a blast. He got to sit on tractors, jump in bouncy houses, drink lemonade and other fun things until he was worn out.  At this point, he swung on down to Nana and Papa's house where he proceeded to not nap (napping has been less regular lately).  Then came the birthday present, which was an awesome little play piano.  I suggested a toy piano as a gift since part of Remy's circuit at my parent's house includes playing on the real piano.  My parents picked out a really nice one.  This cute, little colorful piano has the notes listed above the keys, which Remy enjoys saying out loud when he plays the note.  He also likes to ask where H, I, J, K, L and the other letters are.  Here's what it looks like: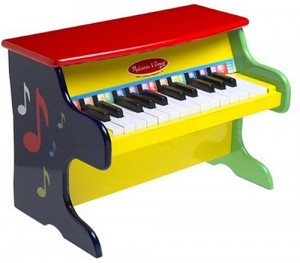 The next day belonged to Grandma and Grandpa, who came out to visit Sunday afternoon.  We went to go eat at Alivia's while the in-laws talked about the dangers of getting mugged in downtown Durham.  There are just some people that aren't going to jump on the Downtown-Durham-is-now-Hip-and-Cool train no matter what happens.  Of course, all that went over Remy's head and he had a good time eating Grandma's sweet potato fries.  Later, he got to open his present from Grandma and Grandpa, which was a toy John Deere tractor with a hay trailor.  This present went over very well.  In fact, you can see it in the background while Remy plays with the truck and trailer from his cousins.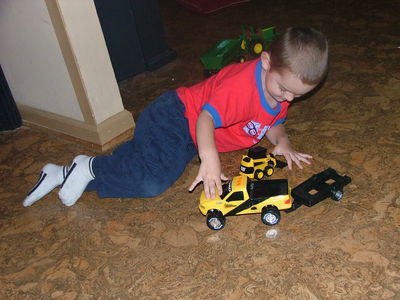 We resumed birthday activities on Wednesday, which was the actual day, with a special event with Daddy and his little neighbor friend Grier.  What was the special event?  Bounce U, a bouncy house place down in Apex.  This was Grier's first time at one of these and he didn't appear very interested in the bouncy house action.  The only picture they could get of the boys together was during snack time.
So what did Mom and Dad get Remy for his 3rd birthday?  Well, we found a rope ladder to hang on our swing set.  I hear he's climbed on it some, but I haven't seen it yet.  He just stood in front of it when I tried to get a picture.  Believe it or not, this is the better photo.
So that's the birthday stuff.  Here's some updates on what he's into these days.
Time out's.  They didn't used to work, but now they do.  Besides, I'm sick of the whining that Gary just tunes out when I'm not around.  I'm also expecting more out of the boy as he gets older and since he comes around sometimes with just a threat of a time out, that tells me I'm not asking too much.  We call it the naughty corner.
Computer geek. I set Remy up with www.pbskids.org on my old laptop and he LOVES all the games there.  He spends hours a day on that thing.  He's learning stuff too, but just imagine what he'll be like when he's 13?  Well, it's hard to imagine what computers will be like 10 years from now, so who knows really?
Talking through everything.  At this stage of development, it seems that small children feel the need to narrate their every move and thought.  My favorite is the "surprise" game.  This is when he tried to surprise me by running into the next room, counting, then running back, all fully narrated.  "I'm running away.  I'm standing here.  (something muffled)  Then I RUN!"  Pat-a-pat-a-pat-a-pat!  "Did I surprise you?"  Oh yes, Remy, you surprised me!
Social interest. The biggest recent breakthrough is actual interest in playing with other kids.  Gary and Remy were on the way to the playground when he asked whether there would be kids there to play with.  Yay!  We're coaching him on how to ask other kids to play with him.  Our shy boy is coming out of his shell!