My big event in November is looming closer, so some of my training has become more specific.  Oddly, this specificity for a completely on-road triathlon took me off-pavement this weekend. 
I would never hear about some events if it weren't for the Bull City Track Club email list.  That's certainly the case for The Continental Divide Trail race that happened to be the 10k Trail National Championships (and state champs too apparently).  Word had it this was a tough, hilly course.  How tough of a course was this?  It took me nearly an hour.  Yes, that tough.  There are parts that can't be run or walked.  I believe "climb" or "scale" would be the appropriate verbs.
This is all great news because I wanted to go out and thrash my quads so they would be sturdy rods of steel in time for Long Course Worlds in Henderson, NV.  Judging by the pain I'm in a day and a half post event, I think I was successful on that point.
My preparatory nod to this difficult trail run was taking Friday off and cutting back the run miles a bit.  No trail specific prep.  No real fire in the belly.  I was there, socializing, and there to get in a solid workout.  During the event, I felt a distinct sense of un-taperedness.
After the fasties took off on the downhill start and a little more sorting out occurred on the first major uphill, I was in no-woman's-land.  Well, except for getting passed about halfway through by someone without a mark on her leg.  They marked up all of us with USATF numbers– "open" for those under 40 and actual age numbers for the rest of us.  Perhaps this was Marguerite (see below).
As it worked out, I was successfully lucky and 40+.  Thanks to the 47 year old who failed to have a USATF license, I managed to clean up during the awards ceremony with 4 medals, a painted rock and $450.  The awards ceremony was painfully long, but worth it on a monetary scale.  I could have done without all those medals.  By now, Marguerite Babrowicz must be rueing the missed opportunity to make cash by investing a little in a USATF license.
Here's Remy waiting not so patiently for awards to be over:
So that was the trail run Saturday, but I had more off-roading on tap.  Sunday, I met up with Alisha Little in Lenior sporting the cross bike.  Lately, the cross bike has worn her platform pedals and doing duty as the toddler trailer hauler.  Let's just say it's been a while since I've done anything remotely technical on the cross-y.
Before the ride, I notice a loose cleat on my shoe.  I also notice the lack of a mult-tool.  Fab.
We warm up on pavement as I'm led to a gravel road that climbs up to Grandfather mountain.  I'm not sure how long we climbed.  A long time.   We did stop to get this picture part way up. (Garmin sez we climbed nearly 3000 feet).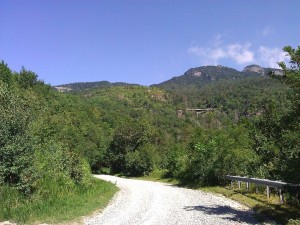 Why did I do this (other than why NOT cuz it's cool and I'm just a tough bi-atch that rolls that way)?  I exaggerate.  There is method behind the madness.  I asked Alisha to get me some real climbing so that the climbs at Long Course Worlds wouldn't seem so long in comparison.  3000 feet?  Mission accomplished.
As tough as the climb was, I was totally unprepared for the steep, sketchy descent.  My hands and forearms will be sore tomorrow from all the braking.  I even took some snack, walk and run breaks to build up my nerve again.  By the way, road cycling shoes aren't the best things for running on gravel, but that's just inconvenient, not terrifying.   I nearly thumbed a ride from one of the few vehicles that passed by, but eventually made it down so that Alisha didn't think I was lying dead on the side of the path.
So I'm back home now, feeling a little raw from it all.  As much as I downplay the amount of training I do these days, I do acknowledge a willingness to go epic from time to time.  I think that having done more pre-parenthood gives me the illusion that stuff like this is no big deal.  I suppose it's at least a medium deal and just the stuff one does to be prepared.  I like to be prepared.