This event finishes out my winter ultrarunning phase.  My report continues below…
The reasons I selected this event are threefold.  First and mainly, because it was near some friends I hadn't seen in forever.  I wanted an excuse to go up to  the Charlottesville, VA area and have a look-see around.  The second and third reasons include timing (the right amount of time after Uwharrie 40) and distance (it was only 50k and no more than 50k). 
Compared to the focused preparation for Uwharrie 40, I was a bit haphazard this time around.  After all, I figured I had a 40-miler in my legs, followed by a trail marathon and another 20 mile training run.  How bad could it be?   Well, that, and the warm weather we've had influenced an increase in bike time at the expense of run mileage.
This was a fun event without any competitive aspirations.  Primarily, I wanted to enjoy myself, explore a new course and finish feeling substantially better than death warmed over.  I was successful on all accounts.
One thing that I was most notablty underprepared for were the two mountain ascents (and descents).  But you know what?  I was fine.  I thought for sure that the first several mile jaunt down the side of the mountain would have surely left my legs in a bad place come the second time around, but my quads held up just fine.  I finished rather strong, even passing several people in the final 8 miles.   You'll see in the profile map below, the final 8 miles are largely downhill.  I'm typically poor at going downhill, particularly on rocky, technical trails such as these.  Must have been the Recovery e21 I was taking.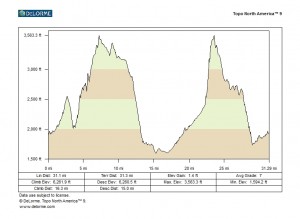 There was a nice ridgeline trail we spent a lot of time on that had a lovely view over the adjacent valley that I caught a glimpse of out of my peripheral vision, but the trail was very rocky and technical, so it required full attention.  Speaking of rocks, I only fell once and miraculously avoided hitting a single rock.  My bigger injury was earlier in the race when I failed to notice a nice a big, overhanging branch due to my ballcap-obscured vision and clonked my noggin right into it. 
The tree branch, not the ball cap.  Actually, it's more of a trucker cap than a ballcap.  The same one I wore for my first triathlon.  It's a lovely bright orange that matches the Bull City Track Club singlet I was sporting over a bright red compression top to keep me warm.  I was in the mood to embrace my inner geek, OK?  Or outer geek.  Whichever.
So how did I finish?  My guesstimated finish time was around 6 hours and I finished in 5:57.  I think I did well.  Gary says four other women crossed the line before me, the first one very far ahead.  There are certainly some things I would have done differently if I were trying to optimize my finish position, but I wanted to do this thing self-supported and low pressure. 
At this point, I don't have any photos, but maybe some will crop up somewhere.  I do recommend the race.  The course is challenging and interesting.  If you're a real glutton for punishment, there is a 50 mile option.  For those who like to go harder, there's the 25k.  See?  Something for everyone. 
The only low point of the day was the stand-offish cadre of ultrarunner pro's hogging the post-race bonfire warmth.  One had on an Innov 8 jacket, but I don't know if they were all on the same team.  I'm sure some of them are lovely people, but I asked Gary to kick me in the shin if he ever catches me acting like that around new triathletes. 
 So I don't end this post on a negative note, I just found the preliminary results posted here and hey, I won my age group!