Remy is now 28 months and into size 3T clothes.  He makes me laugh every day.  Here's the latest things of note to record for posterity.
Asking Nicely.  The querulous toddler developed an obnoxious habit of whining for things.  This is, of course, our fault for not correcting it sooner.  Let's just say we've gotten around to correcting it.  Now a simple reminder generates a lovely "pweez!"  Music to my ears.
The Balance Bike.  I showed Remy the little balance bike Santa brought him on Christmas morning and he responded with "There's Remy's special new bike.  Where's the pedals?"   Then I explained that the bike was so very special because it didn't have pedals so he could learn how to balance first.   He walks the bike around the house on occasion.  When he starts to discover methods to increase his speed, it becomes an outside only toy.
The Skateboard.  Gary says that Remy has developed the confidence to roll down a small hill while seated on the skateboard.   I haven't seen it yet, but I'm glad he's improving his agility.  We took him to a local skateboard park and it was a bust.  He wanted to run out on the course, but mean ole Mommy wouldn't let him get squashed like a bug.  However, the cute skateboarding movie we watched last week did get his attention.  The parts where people were skateboarding any way.
Word World.  This is Remy's favoritest show right now.  I'd like to say he doesn't watch but a little TV, but that's not the case.  In our defense, he learns a whole lot from the shows we allow because he's too busy ignoring us when we try to teach him things.  There's something to be said for colorful animations, catchy tunes and crazy sound effects.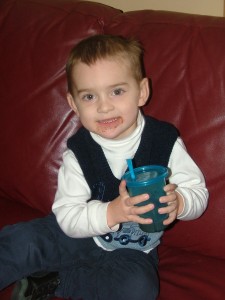 Calling Out Letters in Order.  Remy starting doing this just recently.  That is, saying each letter in a word out loud and in the order it appears in said word.  Greatest related feat so far was the sign at the Library that reads "South Regional Durham County Library."  I'm impressed because that's a long time to spell out words and not get distracted by something else.
Pronunciation.  I know most 2 year olds have plenty of pronunciation quirks.  Remy's most prominent is his unwillingness to pronounce "S" when it is paired with another consonant.  This turns steamroller into "teamroller", spy into "pie", and other amusing things.
Library Time.  Remy loves going to the library.  He used to filter through books with a passion.  Now he doesn't give notice to the shelves full of books.  Instead, he goes for the puzzles that they have.  Gary says the best part is dumping them out on the floor and putting in the final two pieces after Daddy fills in the rest.
He's Still You. We're still working on the you me I we proper usage.  If past history is any indication, one day he'll just "get it" and the problem will be history.
Pre-emptive Back Talk.  Remy has developed an ability to "manage up" by anticipating what Mom and/or Dad is going to say in response to some hairbrained Remy proposal and saying it for us.  Then he continues on as if he's properly addressed our objections.  Not quite, little Dude, but very nice try.
Dinner Time.  He's been very non-compliant when it comes to sitting at the table with us to each dinner.  He'd rather do any number of things except that.  Even when he does sit down, he tends to get up every 30 seconds or so to get more salt, pepper, a spoon, etc.  I think the main thing is that he doesn't like just sitting there if he's got a bite of food to chew on.  He's all about eating on the run.
Bath Time.  He likes it, he doesn't, he likes it, he doesn't.  Current phase is he doesn't and has developed elaborate delaying tactics as complex and advanced as any teenager without the advantage of an iphone.  We try to turn this into a teaching moment by pointing out the digital clock.  What numbers do you see, Remy?  That's a 7, a zero and a 1.  What does that mean?  It's bath time!