Triangle Triathlon was on two separate days this year.  One on Saturday and one on Sunday.  Some people picked both days, but I didn't feel the need for that degree of self flagellation.  I picked Sunday. 
I expected my biggest competition to be from Amie K, who was one of the masochists who raced both days.  I'll be honest here.  I saw how fast she and Stacey went on Saturday and I was unsure I'd be able to pull off a win.  There was a minor change to the bike course, but these ladies went 3-4 minutes faster than I did last year.  Granted, the bike course change is a tiny bit faster and I ought to be in better shape the second season after a baby, but still– 3-4 minutes in a sprint?  That's a lot. 
For a summer that's been excessively hot already, the morning conditions were quite good.  Humid, yes, but hot, no.  I do humid fine, it's the hot I'm not so crazy about.   So the weather was good for me. 
My warm up not so much.  My typical run and swim felt slow and leaden.   Not exactly confidence inspiring, but in the very least I go as hard and get a great workout.  You never know, though, when you might have one of those races where warm up feels poopy and then you race fast.  So I held out some hope of achieving my goals:
swim smartly
bike split under 45 minutes
run split under 20 minutes
I figured that if I did these things, I'd set myself up to likely win.  If these weren't enough to win, then that's fine too because I couldn't see expecting anything more than these targets.
So how did it go?  Well, other than a small lapse in the beginning of the swim where I lost those I hoped to draft off of by getting behind the wrong person, I nailed them.  Although my swim was solo, it was paced smartly.  I biked and ran as fast as I'd hoped, but it took the kind of effort where you don't think ahead to what else you have to do and just hope that you'll still have it when you get there. 
I was, at one short juncture, in 2nd position overall behind team mate Duncan who was so far ahead I couldn't even see him in the distance.  It didn't last long because I'd just barely gotten past Amie & Ken when the eventual men's winner came sailing by.  Then Cid and another guy.  Then another. 
I would like to point out that this is the first time I recall where Cid didn't sail off into the far distance in the blink of an eye.  It took several miles.  I think I was riding pretty fast, which is great because my training rides haven't felt that strong yet.  Of course, with an intended peak in late September / early October, they shouldn't.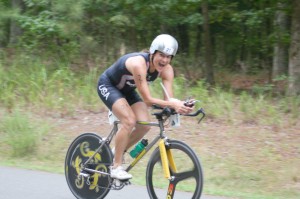 So I rolled into transition knowing that my gap over Amie couldn't be that large because it took me so long to pass her in the first place.  I was right.  As I slipped on my shoes, I heard cheers for Amie coming in off the bike.  I took off as fast as I could as she aimed toward her bike rack spot.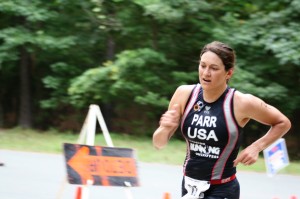 I huffed and puffed and red-lined my way through the run keeping my ears peeled for the sound of approaching footsteps.  What else could I do?  Give up?  Nah.  I was really feeling the effects of the pace on that last mile, but, you know, it was the last mile so I sucked it up and finished strong. 
So I did it.  1:18:21  (link to womens' results)
Last year's time was a 1:21:32, so quite an improvement.  Very pleased.