I'm told that this is my second Christmas, but I don't remember the first one so make of that what you will.  Truth be told, I'm not sure what Christmas is in the first place.  However, here's what I've observed as of late.
There's been a tree in the corner of our dining room with lights all over it.  I touched the lights, so I know they are real.  Then boxes with shiny ribbons and bows started appearing under the tree.  I know I'm not supposed to play with the bows, but I do it anyway. 
Then Grandma and Grandpa Crumpler came by one day.  Mom and Dad said something about presents, but I was too busy showing off my skills on the dining room chairs.  I did get these sweet threads, though: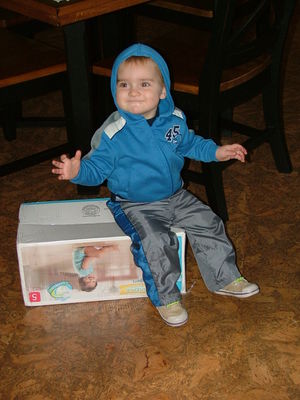 The pants make a neat swishy sound, but they are really slippery for stair climbing.  I do look cool, don't I?
That day, we also played with these new flat board things with wheels.  They called it a skate-bored.  It wouldn't be boring at all if Mommy would get off the darn thing so I could push it around with my hands.  Parents.  What to do with them?
Then the next day we went to see Grandpa and Nana Parr.  They had an even bigger tree with even more lights on it.  It was so mesmerizingly sparkly, I didn't even see the cool, wooden roller toy.  Also there's this big red and blue rocking airplane that makes weird noises and has a spinny thing on the front.  Just like a ceiling fan, but up closer and way more scary.  Now that thing is in my room, so I just go around it. 
I also got a puzzle that makes noises, a block train and lots of other stuff.  So much, it's hard to remember everything.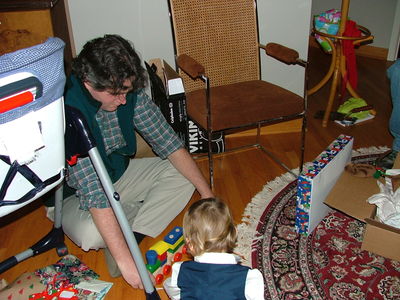 I had a super fun time helping Nana put crumpled paper into the trash bag.  This was important because everybody was tearing paper off of boxes and things.  I'm not sure what that was about, but I am excellent at putting things into containers.  I'm even better at taking them out, but Nana didn't want to see that skill quite as much.
It was a long, busy day, so I fell asleep earlier than usual.  I slept a couple of hours until Dad bothered me by putting on my coat.  I wasn't happy to be put into the car seat, but after waving bye bye to Grandpa and Nana, I felt a little better. 
By the time we got home, I was ready to party.  All these new toys…I just had to play and play and play.  Mom went to bed, but Dad and I kept on playing into the wee hours of the morning.  It was awesome. 
This Christmas stuff isn't so bad.