I recently wrote a piece for TMS Online about developing stretch assignments and put together this nifty graphic that I want to show off on my blog.  Also, it's about time for another blog post.  Voila.  We have arrived at the next blog post topic. 
For endurance athletes, just replace "stretch assignment" with "key training sessions" and "business needs" with "athletic goals."  I think the idea transfers well.   Here's the gist of the article.
When aligned properly with business needs (athletic goals), stretch assignments (key training sessions) are a very effective performance development technique for consistently performing employees (athletes) looking for a challenge .  The intent of a stretch assignment (key training session) is to ease an employee (athlete) into higher responsibility projects (higher levels of athletic requirements) prior to a full-fledged promotion (the big race day). 
This opportunity to stretch skills and capabilities with a safety net is achieved by:
Designing an assignment just beyond current capability.
Creating a time-limited, temporary responsibility.
Frequent check in points with an expert.
 Just Beyond Current Capability. 
We learn best when operating just outside of our comfort zone.  When we leverage what we already know and do well, then we are able focus our energy on the parts that are new to us.  Any further from our familiar, comfort zone and we become anxious enough to reduce focus and performance.  This is in part because we have to think about too many factors before we act to the degree.   
Referring to the Stages of Developmental Mastery, we understand that an effective stretch assignment pushes a fully performing employee out of unconscious competence (or mastery) into a state of conscious competence without pushing them into conscious incompetence.   This is illustrated in the graphic below, where conscious competence is the golden triangle just outside of the blue triangle comfort zone.  Beyond conscious competence is conscious incompetence and unconscious incompetence.  This is a place where we feel anxiety and confusion due to too many unpracticed or unknown variables.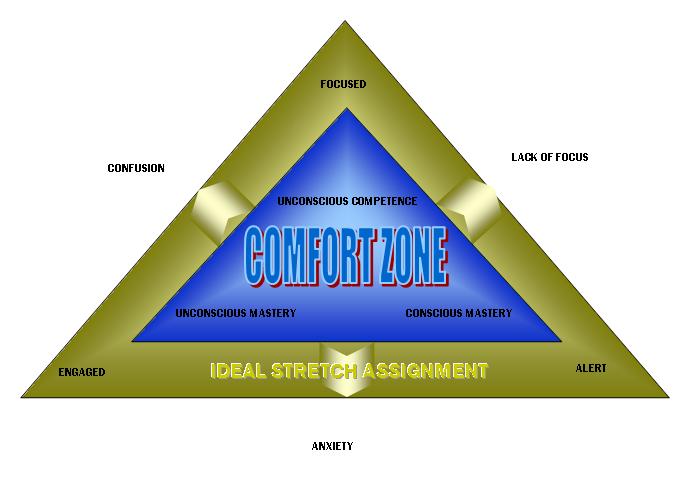 Linking this back to the key training session metaphor, the athlete's baseline training sessions are the comfort zone.  Once this is achieved, the best way to sustainably increase athletic performance is to push the boundaries on a particular aspect of the athletic endeavor (speed, distance, pacing, technical effectiveness, mental toughness, etc.) just beyond the current capability of the athlete.  That is, just ONE particular aspect of the athletic endeavor.  More than one and there is risk of injury and lack of focus on the area that is being worked on.  Too many stretch points in the session increases the chance that some or all stretch points are executed poorly, which is not the kind of behaviors you're hoping to habituate.
Assign Temporary Responsibility
Having a foreseeable end to the new responsibilities keeps the scope manageable.  If the assignment works out well, there can easily be another assignment or formal change in responsibilities.  If not, then scale things back and try again later.  No harm, no foul.
A key training session is a temporary boost in requirements for just these reasons.  If the athlete handles the higher requirements well, then you can try another stretch session or boost day to day training requirements.  If not, revert back to the standard schedule to give the athlete more time to develop their ability to handle the baseline training comfortably. 
Adjust Frequency of Check In Points
Early on, schedule check-in points just a little more frequently than you think is absolutely necessary.  During check-ins, let the employee propose solutions and next steps, then try to guide the employee to the appropriate decision if their approach requires adjustment.  Directing the employee without giving them a chance to provide input takes the responsibility off their shoulders and you want them to feel ownership of the asssignment.
To avoid micromanaging, quickly scale back your involvement as the employee demonstrates competence and sound judgment.  You can achieve this by beginning with requiring permission before proceeding at specified decision points, then switching to just requiring notification when the employee makes the decision and proceeds.
Remember that you are still 100% accountable for the project's success. Never throw your employee under the bus if something goes wrong that you didn't anticipate, or you risk impairing your ability to grow anyone on your team due to broken trust.  It is up to you to set your employee up for success.
Reverting back to the athletic training metaphor, there is a lot of sound advice here for coaching in general and for self-coached individuals working with a subject expert on a particular skill area.  Closely monitoring the results from key training sessions is important.  When an athlete feels "off" during a key session, that is to be taken with greater weight than feeling off every once in a while on standard sessions.  As an athlete transitions a stretch point from conscious incompetency, to conscious competency to unconscious competency, the number of t0uch points they will need with their coach (or expert) to stay on track decreases. 
Summary
To progress through the stages of developmental mastery, start just outside your comfort zone where you can perform consistently without thinking about it too much (unconscious competence) and focus on one factor at a time.  While over-stretching may seem like the path to get you there faster by taking bigger steps, it is more likely to stunt your development by pushing you into incompetence.  Incompetence is not something you want to practice.   Stretching within your range of competency is the path to mastery.