This is the fourth article in a series of cross posts from TMS Online, Talent Management Solutions' web based repository of HR and talent management related tools and resources for the small to mid-market organization.  These writings are intended for a business audience, but the content relates well to endurance multisport as well.  Follow this link for more information about TMS Online and Talent Management Solutions. 
Setting targets for your team is part math puzzle and part human psychology.  The math puzzle is dividing your business unit's or department's targets into smaller pieces and delegating these mini targets among your team.  Even in the most complex organization, that part is relatively simple in comparison to the human psychology portion of effective goal setting.  By psychology, we mean setting goals in a way that enhances the motivation to achieve them.
Smarter Goal Setting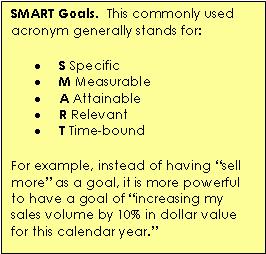 Use the easy to remember SMART acronym to create goals that empower and motivate your team.  SMART refers to creation of goals with specific targets that are measurable, challenging yet attainable, relevant to the individual and the business and bound by a clear timeline with intermediary benchmarks as necessary.  Now that you've got that down, here are some additional methods for effectively engaging your team in hitting the goals your business unit or department needs to achieve.
More Goal Setting Tips That Motivate
Gaining commitment:  Goals must be understood and agreed upon if they are to be effective. Getting participation from your team members during goal development can improve "buy in" and motivation.  This does not mean that every target is open to negotiation, but a little time investment up front can overcome costly resistance in the ranks before it ever occurs.  Be SMART and ensure Relevancy to the individual as well as to the business.
State goals as positive statements: The goal should describe what you would like to happen, not what you want to avoid.  For example, a positively stated goal would be to obtain 95% defect free product, while a similar goal framed from a negative standpoint would be to keep errors under 5%. A SMART goal is positively Specific.
Target clarity: By setting SMART goals, you have specificity, measurability and a timeline.  When you have clear, unambiguous goals, there will be less misunderstanding about what behaviors are to be rewarded. 
Set goals at the right level of complexity for the individual: Goals should be challenging, yet attainable.  Your challenge is in breaking your business unit or departmental goals down into appropriately sized increments for your direct reports.  A goal too complex or longer in scope than someone can handle can lead to lots of hand-holding or goals that are missed without warning.  On the flip side, a goal that is less complex or shorter in scope than someone can handle will be perceived as micromanaging and de-motivating.
Focus on performance goals, rather than outcome goals: Set goals over which the owner of the goal has as much control as possible. In business, it can be difficult to completely remove the influence of other variables on goal achievement, but a SMART (Specific, Relevant, and Attainable) goal will attempt to put as much of the power to influence the outcome as possible into the responsible party's hands.  At the end of the day, no one feels good in a situation where targets were missed due to issues the team member couldn't do anything about.  Also, as a manager, you want to feel confident that you've set targets that minimize the likelihood that your team can fall back on excuses, no matter how reasonable they sound.  You need your team to hit targets.  Period.
Set realistic goals: If you get in the habit of setting overly optimistic goals year after year, you will de-motivate your staff.  Why try hard when the targets are out of touch with reality and hard work is likely to be rewarded with blame?  The SMART Goal approach highlights the need for Achievability.
Prioritize: Help your team members grasp the priorities of the different targets you set with them, even as the priorities shift throughout the goal period.  Unless people have a clear grasp on task priorities, they will tend to do what they like most first or what seems most urgent now.  Set SMART goals that are Relevant to the business and to the individual.
Build in feedback loops:  Feedback sustains high motivation levels by providing opportunities to clarify expectations, adjust goal difficulty, and gain recognition. Intermediary benchmarks created by you and your team member give both of you a view of progress against targets, which is particularly important for longer term goals.  Also, using SMART goals are Measurable, and this ensures that clear feedback is possible.
Use incentives wisely.  There's no question that incentives motivate behaviors, so make sure you are motivating the right behaviors and not those at the expense of other important business goals.  Be sure to look outside your business unit or department for unintended impacts of any incentive you create to motivate achievement of your team's goals.
Summing Up Goal Setting.
There can be a lot to remember when it comes to setting goals well, but if you keep the SMART mnemonic at the forefront, you'll be 90% of the way there.  So be SMART and keep those goals Specific, Measurable, Achievable, Relevant and Time Bound.