This is first in a series of cross posts from TMS Online, Talent Management Solutions' web based repository of HR and talent management related tools and resources for the small to mid-market organization.  These writings are intended for a business audience, but the content relates well to endurance multisport as well.  Follow this link for more information about TMS Online and Talent Management Solutions.
Any athlete can tell you the difference between coaching vs. training, and the discrepancy is the same when it comes to the business setting. 
Training is the collection of specific behaviors that an individual employs to address specific skill and competency gaps that improve performance.  While the athlete may do drills and specific strength training to their event, the business professional will increase their knowledge base through coursework and reading then practice new skills through stretch assignments. 
Find out more about employee training and development in these TMS tools: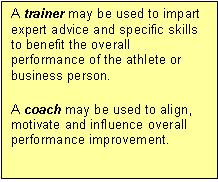 Employee Development Assessment Survey
Employee Development Action Plan
Team Development Plan
Performance Development Techniques Chart
TMS Success Kit – Employee Development
TMS Performance Suite – Growth
The key to training success is in consistently practicing incremental improvements.  If done well, this is a moving target, so the training plan itself will transform as the employee develops.  Staying consistently motivated and dealing effectively with evolving training plans is easier said than done.  This is where coaching comes into play.
Coaching is the guidance of a relative expert in helping design an effective training plan, as well as motivating and boosting accountability for the coached individual or team.  This is true whether you're coaching a basketball team to a regional championship or a team of financial experts toward business objectives. 
Discover what it takes to coach high performers effectively in these readings:
Why Coaching Is Important
Coaching in Action – Developing Performance Excellence
Attributes of a Master Coach
TMS Success Kit – Employee Engagement
TMS Performance Suite – Engagement
 Manager as Coach or Trainer?
As a manager of a team of business professionals, you may wonder whether your role is as coach, trainer or both.  The short answer is both but not always and not for everyone. 
Just as your high profile basketball coaches employ expert strength trainers, there are many cases where it is the most effective use of your expertise and time to use trainers and training courses as part of your employees' development plans.  Likewise, there are many cases where coaching support is best outsourced to a peer, senior executive or external business coach.
Your high-performing team will count on you as both a coach and trainer, so be prepared to take on those roles when needed, but stay mindful of other resources that can help you and your team perform at its best.