That's me.  My hips are permanently wider after childbirth.  I've been noticing that some of my race photos of my running have been showing my hip dropping precipitously on foot strike.  Here's a particularly attractive example: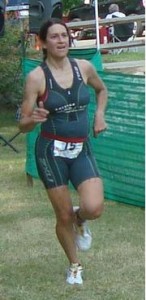 Anyway, I was thinking about the hip issue during a tempo run today and was finding it difficult to stop that floppy hip drop feeling no matter how much I focused on running like an ITU triathlete.  Looks like I've got some re-learning to do with my run form with these fancy new hips. 
Any suggestions on specific drills or strength work that would address this issue specifically?