Hey peeps.  I had my 9 month birthday the other day.  I'm a growing boy and am up to 22 lbs 9 oz.  I make funny wheezing sounds that made my parents think something was wrong but the Doctor sez I'm just fine.  Well, duh.  I've seen my mug in the mirror.  FIIIINE!
Plus, check out all my new skills!   I can transition from holding myself up with Mom's legs to a piece of furniture even if they're far apart enough that I have to take a step hands free.  Heck, when I feel like it, I can even take a few steps into Mommy or Daddy's arms.  Better catch me though!  Does that count as walking?  I am so there.
I'm also exploring the concept of rebuilding the block tower that I am sooooo awesome at tearing down.  Better not blink, cuz I can speed-crawl across the room and knock over those blocks so fast yer head would spin.  But now I can start to put it back together.  Those long skinny pieces are tricky though.  I've tried every angle, even standing up, but not a lot of luck yet.  I'll keep trying.
I learned how to eat corn flakes and rice kernels. Its easy once you know how.  Oh and here I am helping Daddy make handprints on the sliding glass door.  I waz kind of mad when he went outside without me at first, but then it was OK.  It's hard to stay mad at Mommy and Daddy becuz they're pretty awesome.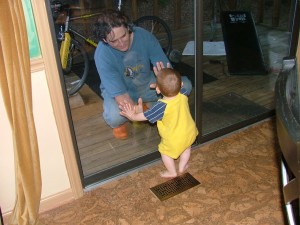 But the reason for this post is  another tip for the fellas. I was trying this out at a pool party. What you got to do is simply walk up to the womens, flash a grin – then give thema big "How you doing?" Then ask them if they want to see your tooth. Works every time.  At this same pool party I got to show off my dance moves when the YMCA song came on. Hottttt I tell you.