This is such a cool, little race.  It's been on-again, off-again through the years.  Last time I did it, it was supposed to be the last time it was held, but Finish Strong Series has revived it.  Good for me, because it's nice and close to my in-laws.  Family road trip!
This was a really small race, so none of the elite racer big guns were there.  Just me.  Some people think I'm an elite racer big gun, and depending on your definition, perhaps I am.  Mainly, I'm there to see how the swim goes after a long break from swim training and to see how the run is coming along.  I dream of getting that 5k split under 20 minutes, but I know that's unlikely.
So the swim goes well, despite my complete lack of opening speed that helps me break from the crowds.  Eventually, the hordes (all 30 something women) filter back with one remaining to my right.  Hoo-wee.  I'm near the front.  Thank you new 2xU wetsuit!  The other girl breaks to the left to catch the first turn buoy right in front of me, presenting her draft-worthy feet to me like  a big ol' birthday gift.  Except that it's not my birthday, which didn't stop me from latching on to her draft zone in a most shameless manner.  It was great.  I got pulled through the remainder of the course and came out practically at the front of the womens' race.  I even got my wetsuit off in a reasonably short amount of time, which is something I can't claim for a lot of wetsuit legal races I've done.
The bike was cool.  Or, rather, pretty quick on the way out.  Flat, flat, flat, except for the big bridge we cross twice.  On the flat portion after the bridge, I noticed I was still comfortably in my almost biggest gear.  How strange…not really.  Just means the wind has been at my back.  So we all battle back to transition with the wind in our faces.  I'm sure it made a significant impact on return speed relative to the first half, but I have no idea how much because we forgot to bring the GPS to the race.  Left it at the in-laws.  Oops.  We did, however, remember all of the higher priority items like running shoes, wetsuit, bike and baby.
Anyway, I started the bike leg with a small lead and ended up with a bigger lead with Amy Quinn in second position like a big deja vu from a few years ago.  Amy had a baby in 2008 as well.  So did Becky Fitzula, who ended up in 3rd, but I digress.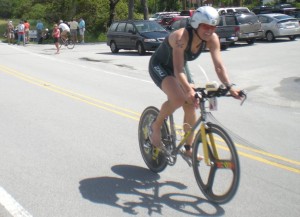 Let's see…the bike ends and then I have to run a 5k.   There are two men well ahead (including team mate Bobby Dixon) but that's it.  Not so bad considering the guys got a 3 minute head start on the ladies.   So how was the run?  Fine.  I ran as hard as I could for that 3.1 miles with the seconds ticking by slower and slower as the lactic acid accumulated in my bloodstream.  How did I do against the sub-20 minute target?  Not bad– my split was a 20:10.  Close but no cigar.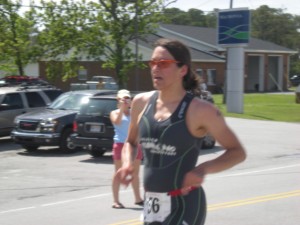 Overall finish time was a little over 1:05, maybe a couple minutes slower than last time I did this race.  I did, however, get 2nd overall including the men.  Yeah, it's a teeny race, but still a solid showing.
It was fun to see old friends and make new ones.  I enjoyed the pre and post race socializing the most.  Oh.  And the clam bake.  That was some tasty post race food.