Current home improvement project numero zillion is painting living room, hall and dining room walls.  This is the Cracker Bitz color I've mentioned before.  The trim color is breadbasket, the next shade darker.  While neither of these names sound all that friendly to a gluten free girl like me, they are mighty fine looking on the walls and really add warmth where there used to be a white glare. 
Thing is, this isn't quite so simple a project as it first sounds.  One of the living room walls we are painting is two stories high criss-crossed by obstacle beams.  Attractive beams, but obstacles nonetheless, espectially when you're trying to squirrel an extension ladder into place.  The ladder is tall, but Gary says that once at the top, it's still a stretch to reach the very top part of the wall.  He bought a special edge brush with extensions just for this purpose.
Someday we'd like to trade out the unsightly track lighting for new, energy efficient LED lights.  How totally cool would that be?  The industry needs to catch up with more options and cheaper prices, but that's only a few short years away.  Until then, we'll continue to include companies who develop such technology in our investment portfolio.  Growth area, for sure!  But back to the paint job at hand.  The parts in the previous pictures, while challenging, aren't the trickiest part.  It's the part over the balcony that's a head scratcher.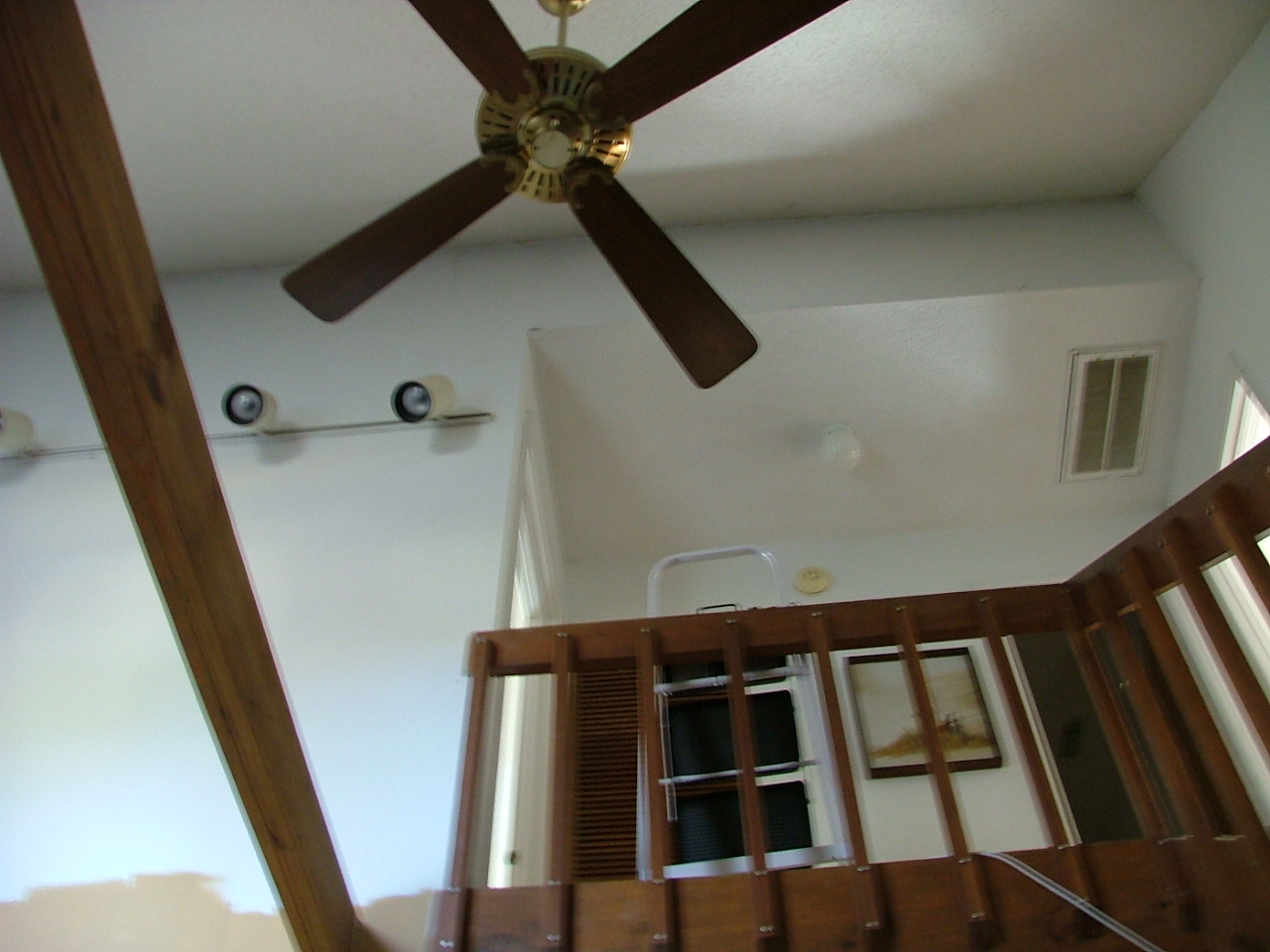 Lesse.  Gary leans over backwards over the edge of the balcony with an extension pole roller, or uses an equally precariously positioned step stool right at the top of the stairs, or something else I haven't thought of but equally dangerous.  This situation has trouble written all over it.
But wow is it gonna look cool when it's done.