The day started a little later than I had intended.  I had an unusually sound sleep at the hotel and slept until about 40 minutes after my planned wake up time.  A little rushing around and we managed to get going and get back on schedule.
The morning was cool and pretty uneventful.  I got set up then did a little warm up run.  Hmmm.  I don't feel very quick, so I know I probably won't be contending for the overall at this race.  I know Amy Kloner is here and she's been racing well this year, so that's my pick for the win.  Elite women?  I don't know all the names, but I know Briana Boehmer is very fast.  Out of the elite men, Joerie Vansteelandt is in attendance, and he's awesome and surely motivated with the recent and untimely passing of his famouse duathlete brother Benny. 
The race is split into various waves and I start with the 39 and under women.  One runner flies off the front in a big hurry.  Aha.  There's our runner for the day!  Turns out this is Cynthia Anderson, previous track runner from Rhode Island University and she turns in an opening 8k of 29:1x.  That's sub-6 minutes on a super hilly course, if you're wondering.  Wow.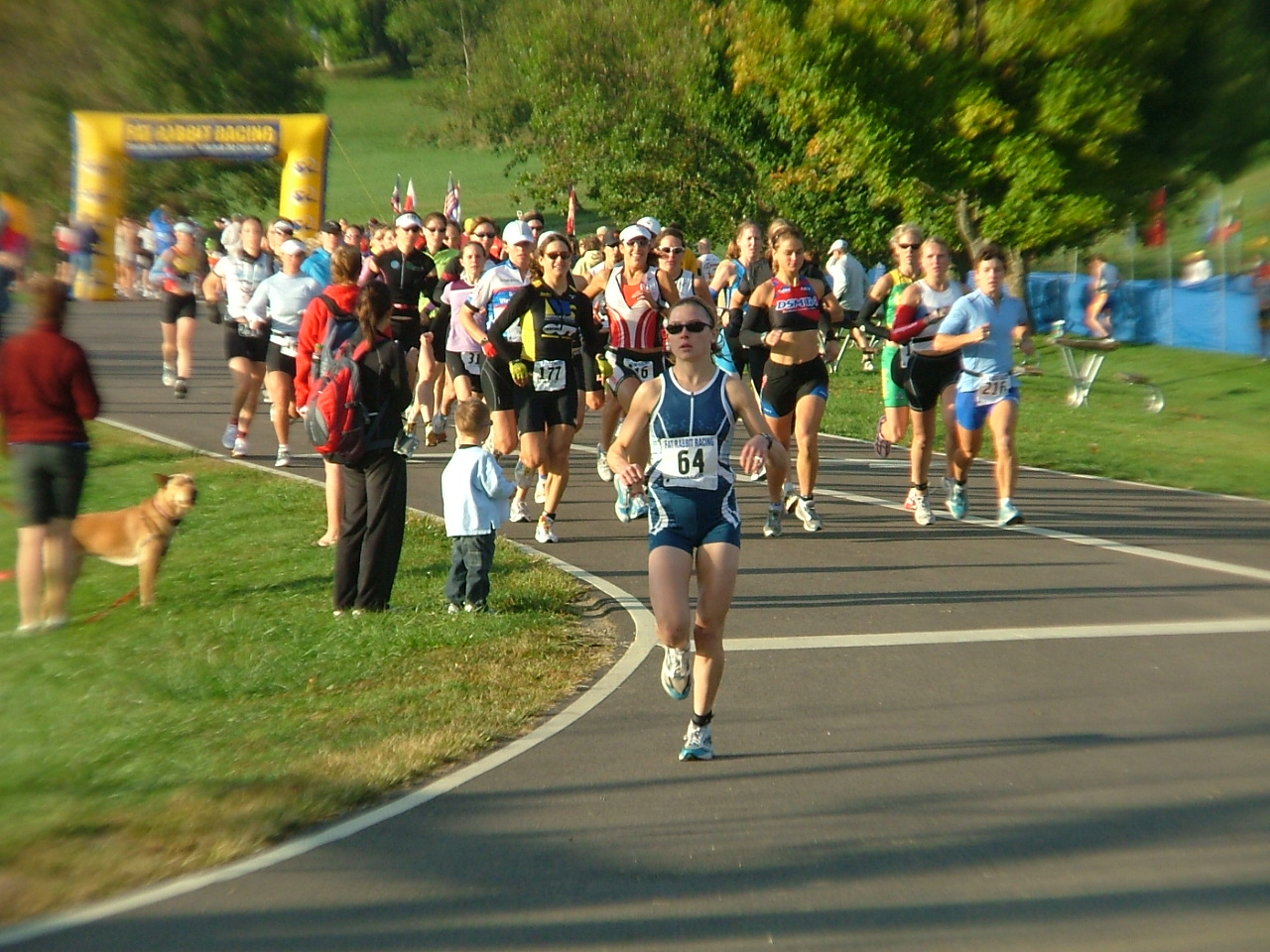 Back in my part of the race, Amy opens a gap on the big hill as I slow and take it conservatively as planned.  I say I took it conservatively, but the reality is I don't know I could have gone much faster with my current long course training condition and B- race half-rest final preparation.  At any rate, a couple more girls ran by me in the opening 5 miles as I barely kept my average miles under 7 minutes.  Thing is, there's just no getting through that run without feeling it's effects when you get on the bike, especially when I'm running the fastest I've done in a month, which isn't all that fast at all, but good enough to stride into T1 in 5th for my wave.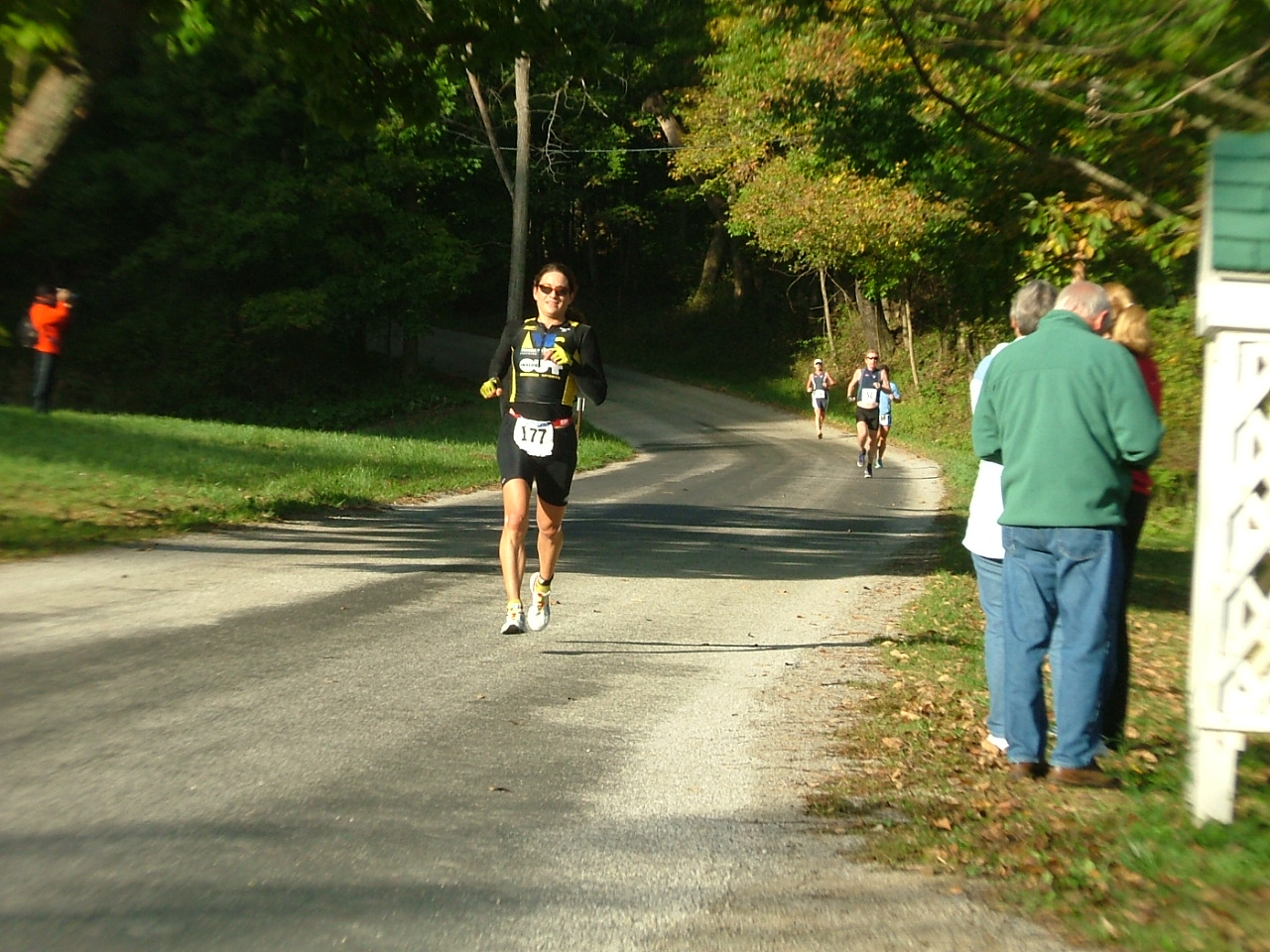 On the bike I felt pretty good.  Air was still a little cool, but comfortable with my long sleeves and fingerless gloves.  I passed two of the girls who were ahead of me on the run.  Then I saw a pack of men riding way too close together and making no effort to ammend the situation.  Then I saw another pack, this time carrying a female in the middle of it.  I think, yeah, I could ride that fast too placed a wheel length behind another bike.  I take a mental picture of her outfit and watch as the pack remains intact riding into the distance.  Cheater.  But I don't let other people's stupidity mess with my race.  I'm here for a reason (Worlds slot) and I stick with the plan. 
I get to the hilly section, initiated by a sharp right turn and the road kicks up to 15% or so.  They had it painted on the road to switch to your small ring, which is highly recommended you do, lest you end up like the guy on the side of the road putting his chain back on.  In this part, the climb is steep, less steep, steep again, then down the hill and back up another climb.  With two loops, we do this twice, and it's best to remember that hilly 8k run we have to do again later.  It's not a terrible climb, but it's best to have the appropriate gearing.  I have my 26×11 and loving it. 
The second time up the hills was my favorite part of the race.  A few overgeared fellas grind by at the bottom of the hill and stay just ahead of me on the first climb.  Down, then up again on the second climb and they are paying big time, sprawled across the lane grinding at 50 rpm while I zip by in my 26 tooth cog.  Excuse me!  Coming through!  You can see the ride profile for yourself at this link.
I also pass super runner Cynthia on the hills the second time through.  I'm not sure what happened, but she was off walking up a steep portion.  I give her some words of encouragement and keep going.
I promised that I'd finish strong and pick up some steam on the final 5 miles or so.  I roll into T2 in 3rd place for my wave.  I do my flying dismount and notice that my legs seem pretty tired.  Oh well.  If there's one thing I know, it's that I can keep going.  All I need to do is not fall completely apart and I've got my slot. 
So I set off up the big hill again finding a pace that is not too painful but hard enough to call it racing.  Spectators are scattered along the hill encouraging the athletes.  One says there's two girls ahead and she thinks I can catch them.  Oh, I doubt it, I reply.  Arriving near the turnaround finally, Amy looks good and has a solid lead as Cynthia catches back up to me and flies by at supersonic speed.  I'm plodding along at my chosen pace and look forward to being able to stop eventually.  Then I see her.  Oh, is that her?  The girl who passed me on the bike in a pack of men.  Ugh.  I'm not in the mood to chase and I'm not physically prepared to do it either.  Gosh darnit, she doesn't deserve to finish in front of me.  Ack.  OK, I will pick up my effort a bit and try and reel her in on the hills.  I finally catch her in my slow-motion chase on the final hill and manage to maintain a small gap down the big hill and into the finish.  I try and kick in the final stretch and, suprise, there's nothing there.  Oh well.  The pain is evident on my face in the photo below, however.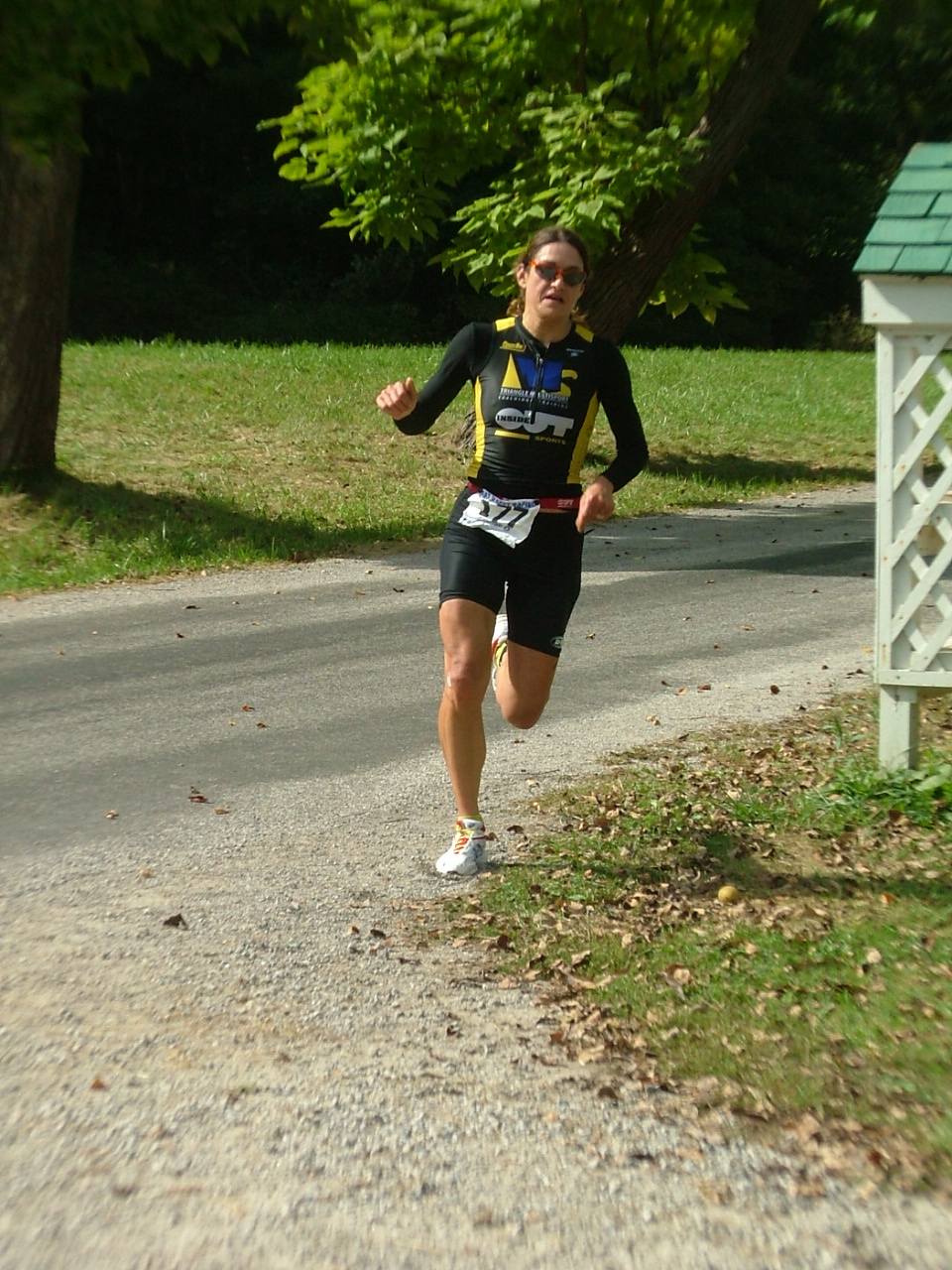 I finish in 2:57ish and come in 4th amateur behind Amy Kloner, Melanie Roberts, and Cynthia Anderson.  I also win my age group, which is cool because they are giving out National Champion jerseys.  I don't have mine yet because all they had was extra small by the time they called me up and my swimmer shoulders would never fit into that size.  I'll get it in the mail later.  I'm looking forward to sporting the dorky USAT Duathlon National Age Group Champion jersey on my coming roadie rides!!!
In the elite field, Briana Boehmer flatted so Anissa Seguin stole the day with a dominating performance and the only elite to race faster than Amy Kloner.  Hmmm…Amy…time to go pro in duathlon next year?  Maybe?  As expected, Joerie Vansteelandt put on a seminar in how to aboslutely destroy the rest of the field.  What a display!  I'm honored to have been there to see parts of it.