My fortune cookie with dinner read, "you have great physical powers and an iron constitution."  Perfect.  Today's aquathlon may have been a small field of 30 or women or so, but a national championship win still lets me say I'm a national champ, which is a very cool thing. 
Speaking of cool, the day was that and wet too.  Not that this was a problem, since there is no bike leg on this 750 meter swim / 5k run event.  The water is a beautiful greenish color, smooth and around 70 degrees.  Very nice for wetsuit swimming.  After all the politeness at the start line, these women didn't mess around trying to hold a line that seemed to intersect with my line.  It was rough!  Geez, I'm thinking, let's try and cooperate a little.  After having a really perfect line to the turn around buoy, I got muscled over a little bit and saw that I was about to be cut off by a very aggressive swimmer in a black & white bathing suit.  I decided it would be best to just ease up and drop in behind her for the turn.  That way, she's the one that has to do the burden of the sighting after the turn to get back on track.  After the turn, I sat in a little while.  Then she seemed to slow, so I came around and eventually passed her.  Oh well.  I was just trying to keep things steady and relaxed and strong.  Swim felt pretty good, actually.
I came out in 4th with the leader maybe 20 seconds or so ahead, although I wasn't sure if someone was further up.  I didn't transition all that well, with my wetsuit getting a little stuck over my heels and then dropping my race belt on the way out requiring me to backtrack and get it.  Hopefully, I made those mistakes today so that I don't this on Saturday! 
There's a steep, little pitch out of the parking lot to the road portion of the run that can drive the heartrate up pretty quick.  I took it fairly aggressively to capitalize on all the hilly run training I've been doing, but then settled into a reasonable pace on the road.  I could see 3 women up ahead, all well within striking distance.  There was a fellow further ahead with a man-bra thing on, so I wasn't sure if that person in the distance was a female or male at that point.  I figured I would keep my pace conservative and just worry about getting the three in sight.  I passed all three before the turnaround and realized that I had the lead in the womens' race, which allowed me to relax and finish without compromising my speed for Saturday. Can't really ask for a better scenario than that!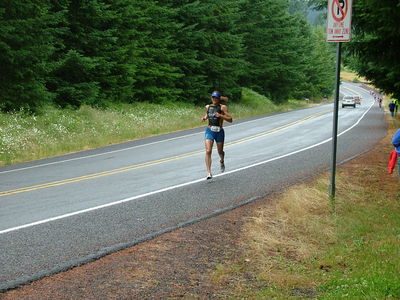 At the finish, they had the finisher banner up to run through, so I did the whole "raise my hands in victory" thing, like I've seen the pros do on the ITU web coverage.  Hey.  Why not?  It's not every day one gets a chance to enjoy a national champion status finish!  Woo hoo!
Here's myself and the men's winner, whose last name is Luckie.  I love that last name.  That's awesome.  He's from South Carolina and he won last year too.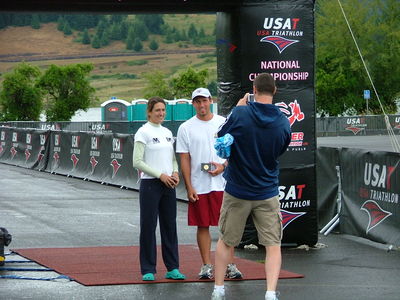 More Photos.