This is most definitely not the kind of workout you want to slog through because you're already sore and tired, but that's how I did Mountains of Misery today. When we started to roll I noticed that my legs felt like they do at the end of a long ride. I kept hoping that I would warm up and get loose and start to feel good after a while. Yeah. That didn't happen. I did rely on my endurance to get me through it and that worked nicely. I didn't really feel any worse throughout the ride except when climbing steep hills and mountains, which is when I suffered from lactate-overwhelmitis. I couldn't even get my legs to work well enough to really get the heart rate and breathing going really good like I usually can. I struggled on all of the climbs, but I guess that's the risk you take when you put a tough mountain century at the end of a three week build. Oh well, I did my part to make sure the race promoters stayed true in their advertising– Misery and Mountains were both had by me for sure.
I don't want to suggest that everything about the ride was yucky. Far from it. I met lots of cool people, especially Adam from Lynchburg who rode much of the ride with me except where he'd gap me on the climbs, and he had ridden 80 miles the day before. That's tougher than a silly little track workout, right? Adam kept saying that he was about to cut back on the pace– like 10 time he said this– but it never happened unless you count the time he cramped on a climb which slowed him down temporarily. His friend Tim laughed that he says that crap all the time for years now. Apparently Tim has long since quit holding onto any false hope that this "easing off" would ever come to fruition.
Here we are rolling into a late-ride aid station, very ready for a short break and more fluids: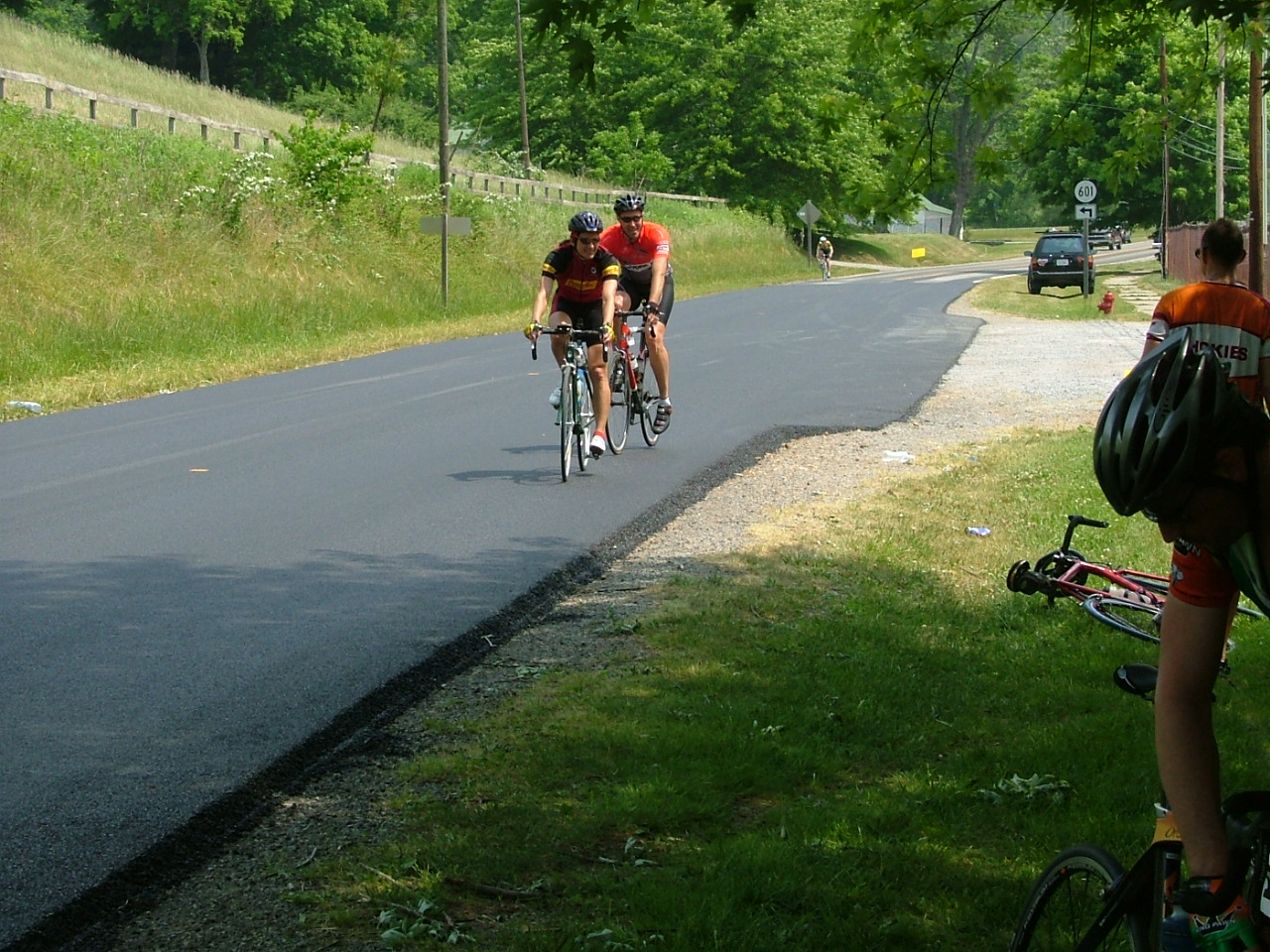 Weather was nice albeit warm with only the lightest breezes and the scenery was gorgeous. It simply was a nice day for a ride. Plus, the volunteer support was outstanding.
One of the bigger wins of the day is that I easily stayed with the lead pack until the big 1300 foot descent, which is where I kind of expected to get dropped. What's really cool, though, is that my GPS tells me that I wasn't sucking too badly on the descent, riding 30-46 mph most of the way down, which kind of tells you how fast the lead guys were going. Really, it was the turns where I probably got dropped since I slowed to under 30 mph on those. In fact, I was right behind the eventual female first finisher at that point, until I got distracted by seeing my husband drive by and missed my turn and went about a mile the wrong direction. It was a little confusing because this was where the double metric and century courses split. Yes, I said double metric. The actual distance for them was 128 miles, I think. Totally insane, I agree. A kindly double metric rider informed me that I missed my turn, so I don't think I lost too much time, plus got some bonus mileage. Because I needed it– right.
It was shortly after a pack of about 10 of us formed and we made good headway for about 5 miles or so. Then I was out of fluids and had to stop and refill while my wonderful pack rode on without me. Bummer. I finally caught up to some of them later right about a mile before the first big climb, so I had a few miles of riding solo. I saw the group ahead but didn't have the legs to even try and chase them down. I pedaled along and enjoyed the scenery.
The final climb is pretty tough. A fellow from Greensboro described it as "like Pilot Mountain but longer and steeper." Starting from river level, the last 6.75 miles goes up 2200 feet with a way-too-short downhill reprieve about a 1/4 of the way up. Actually, with the downhill piece, I suppose the actual climbing was greater than 2200 feet, but who counts whent he numbers are that high? They say the average grade is 12% and my GPS picked up some 20+% numbers probably from the switchbacks. It was harsh and I felt heinous.
Want to see how slow I was pedaling? Check out my glorious finish video where I drag my body and bike past the finish banner while my Powerbar kit gets a mention. Look at me, fashion forward Alicia. Actually, the Powerbar kit is the only cycling specific gear I have with big logos on it. In cycling circles– kit with big logos = street cred.
And that was my day in the mountains.
Official Finishing Time: 6:11:27, 2nd female finisher (not bad,eh?)
Total Mileage: 104.75
Elevation Gain: 12,274