Let's just forget about that miserable Doughnut Boy TT and keep our eyes peeled forward. That time is to be forgotten, because it doesn't count. Yes. That train has left the station and will not be coming back to town.
Tonight, though, the Marina Train rolled in for a stop and I got on. No rain, weather a little warmer, gears shifting properly and am in good taper mode for this weekend's tri. Almost all upside, with the only negative would be the 10 mph headwind for the first half that blew us home on the return trip. Calm is always faster, but I'll take these conditions any day.

Funny thing is that I was a little disappointed with my time– well, not really, just not THRILLED, but OK with it. I remembered being really happy with my April TT for last year and figured my time this year sounded slower. Not that I remembered exactly, so Sean looked up everyone's times for last April and sent out this years with the comparison.
So here they are: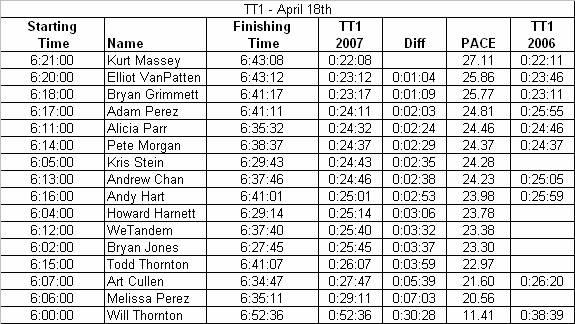 Ha! I went faster this April. Yay! Year to year improvement- that's what I want to see! Sweet! Now, if I can consistently improve over the course of the season, that would be a great improvement over last year's messy pattern of ups and downs. Yes, let's go for the linear improvement over time pattern. That's a fine goal.
So now for the Time Trial Geekoid Sitings for the Evening:
1. The all carbon saddle. I think Mr. "Carbon-Head" Grimmett was salivating with envy.

2. The super-aero water bottle that is almost impossible to get in and out of the cage while riding, which just goes to show that in some circles, pragmatism takes a way far back seat to aerodynamics and general bling-factor.
3. Andy Chan's styrofoam and spackle treatment to his "now more aero helmet." In his defense, it isn't yet finished, but will look "really cool" when painted.

4. My old helmet sporting the new paint job, which goes to show the big difference that can make. (I'm stretching in the pic if you're wondering).

And that's all for this show. Later…