Things started off normal enough this morning. We loaded up the warmie gear and hit the trail for a nice, relaxed run to get the blood going.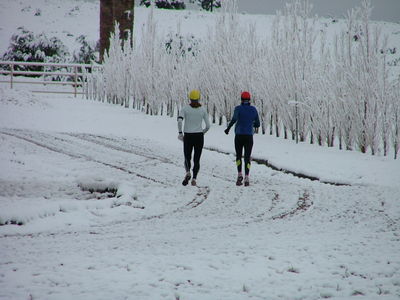 We stopped a million times for photos of the scenery and snow, but Alisha got some good ones. See here for the photos from the run.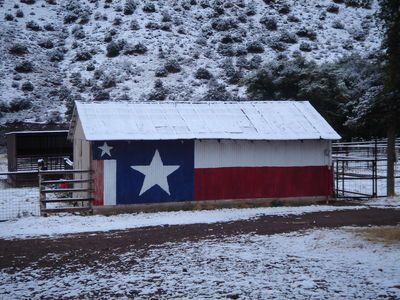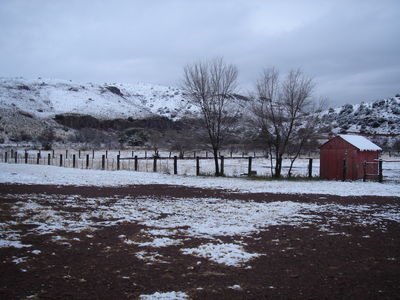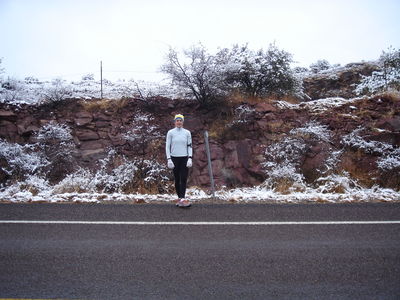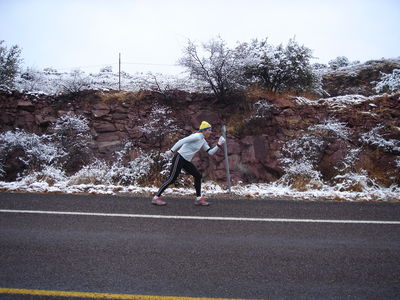 The trouble all started during the return trip of the run. Somehow, the idea of getting pictures of us in shorts and a jog bra 'snow bunnie' style turned from something funny to say to an actual good idea. How is that possible? No telling.
What I can tell you about is Alisha and I dressing in shorts and jog bra prancing around in the snow posing for the camera, making snow angels and riding around the muddy/snowy parking lot on our bikes. My snow angel wins the contest, according to Gary. Other than that, I'll let the pictures tell the story.
First, the snowball "fight". My form is a little heavy on the "bunny" and light on the "fight". Oh well. Just playing the role.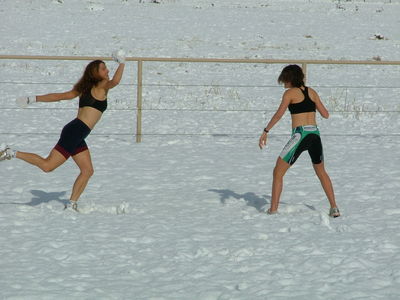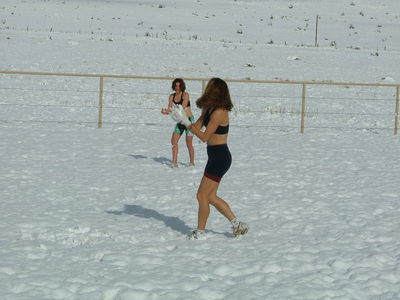 Then we stretch and pose on the barbed wire fence. It turns out it's NOT electric. Good thing, too.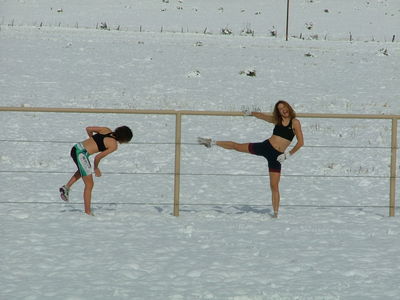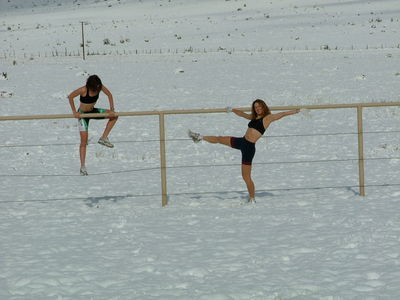 Then a short bunny hop jog to the fence and back. We were careful to try and run like girls. How'd we do?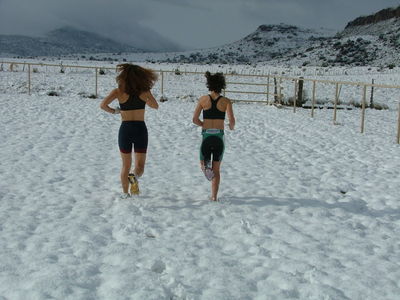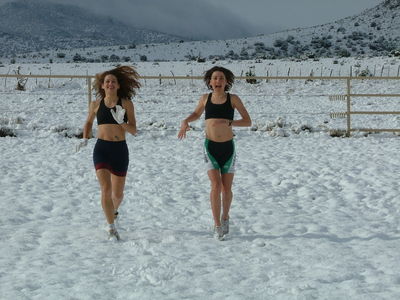 We made snow angels. Man, was that COLD. I say mine was better. My husband agrees. For some odd reason, Alisha's husband thinks hers is better. Go figure. Feel free to weigh in.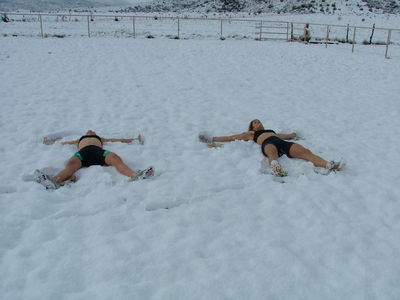 Alisha's Angel: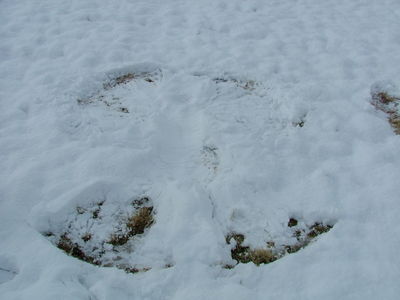 My Angel: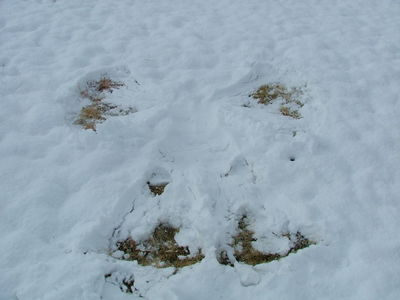 Then we move on to the bike portion of the snow bunnie triathlon. Or maybe it's a pentathlon, whatever. In any event, Alisha looks distressed at my "no shoe change" quick transition. Unfortunately, I take a few short loops for increased photo ops and Alisha takes the lead to win the race.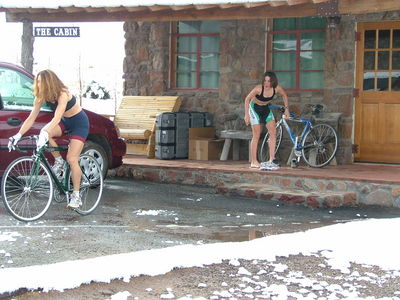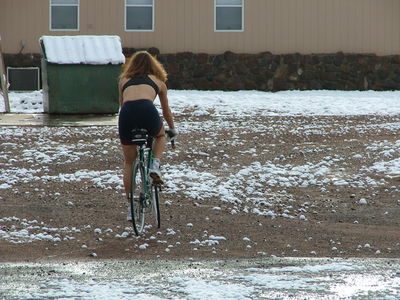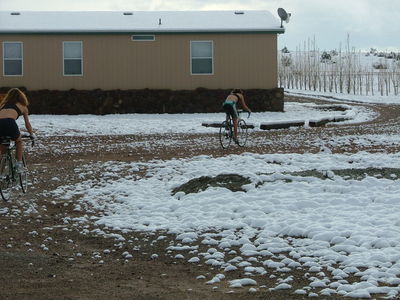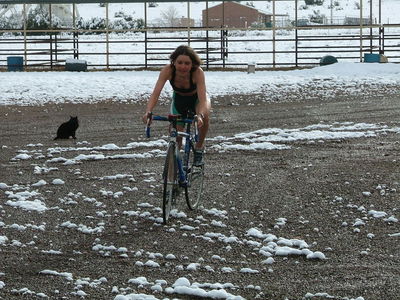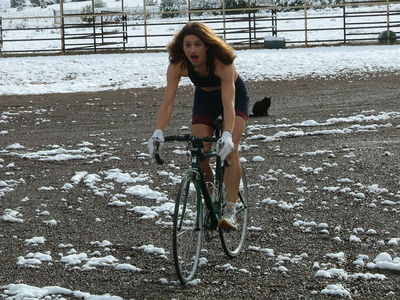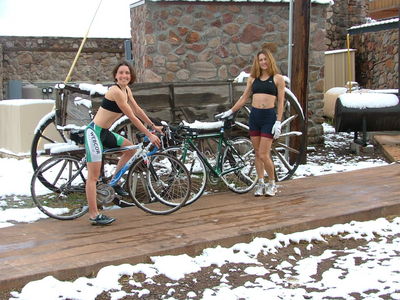 In true triathlete style, I sport a bento box on my ROAD bike. I mean, how many roadie rules am I breaking here? I shudder to imagine.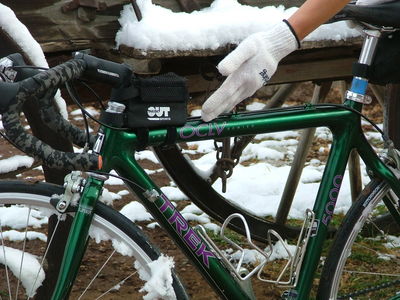 The snow bunnies rest and reflect after an intense workout.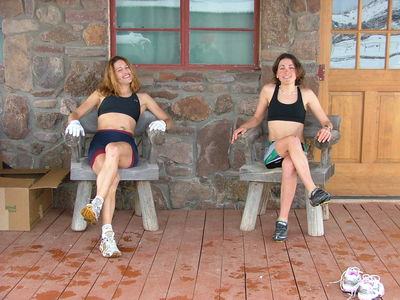 Then we run inside and get WARM!!!!
For the full photo experience from today's adventures, you may click here.