Oh gosh. Where do I start? The beginning, I guess. We got up and went running the other direction on the jeep trail. I turned around at 3 miles and headed back. I forgot to recharge the GPS so it died, so I don't exactly know how long it took.
We got on the road heading south to Terlingua via Alpine, noticing that the wind that was supposed to turn to a North wind was still blowing from the South. Wait. Howling from the South. Yesterday, with a lesser headwind, we still arrived in Alpine 20 minutes faster than today. 20 minutes slower over 30 miles. It was brutal. I took cover behind Alisha, which helped a lot, but we still were travelling like 12 mph over a consistent 1-2% downhill grade. I really don't know how fast the wind was blowing, but the flags were straight out on the poles.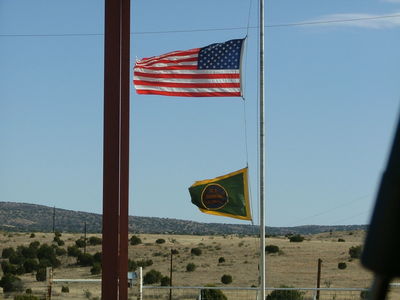 We stop to get pictures in front Alicia's restaurant. We ate there later– see, we have photographic evidence.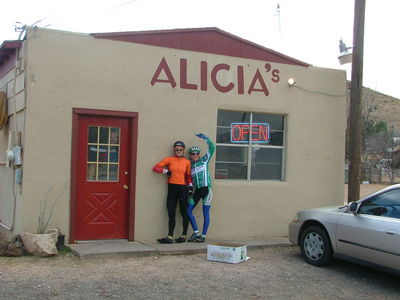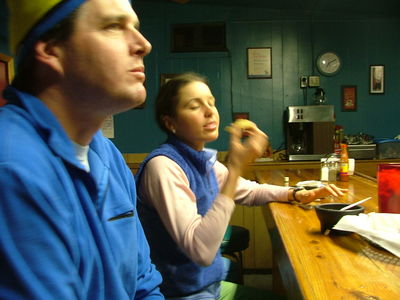 We continue south of Alpine as the road rises back up the elevation we've lost since Fort Davis. Wind still blowing head and head cross. I start feeling a bit weak again and suffer up the seemingly endless incline. Finally down the other side, we obtain speeds of 17 mph with the help of elevation. Then hit the flats dead on into the wind. The wind may be even stronger then. Hard to say. I think we were going 10-11 mph.
Finally, we roll up to the border check point where Gary's waiting. We don't look happy.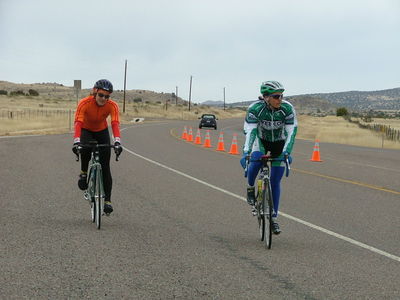 Alisha refuses to ride on if she's not motor-paced. I've never motor paced, so I give it a couple of shots, but I just don't like riding that close to a vehicle at high speeds when I tired. I'd rather try new things when I'm fresher. Ironically, the road turns to the left and the wind shifts. Off the back of the vehicle, Alisha and Gary zoom away. I notice the riding is easier and faster– I look down and I'm going 27, 28, 29 mph. Oh well. Who needs a car when you got wind power? I ride on for a while and start to get hungry. The wind is cross-tail and keeps whipping my bento box shut, where I've stashed the plastic baggie of homemade bars. I decide to stop and grab a bite to eat before I bonk something terrible.
As I'm noshing on the side of the road, Gary drives back. I'm feeling low on fuel and am fighting off cramping in all kinds of strange places in my legs. I decide to call it a day at 60 miles. Doesn't sound like much, but I was on the road 4 hours and 20 minutes including all the stops. The total ride time was 3 hours and 55 minutes. Yeah, that's an average of 15.3 mph. Nice. You can see my lame-o ride on Motionbased.com here.
I then get in the car and we catch back up to Alisha and do some more motorpacing. Where Gary pulls her to speed of 40-50 mph until she cries uncle. I think Gary sped up every time he saw her coast a little.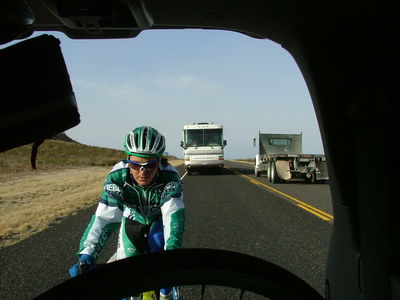 While riding along the blank openness with pretty mountains in the background, I intermittently get enough cell coverage for the phone to alert me I have a voicemail, but not enough to actually CHECK voicemail. So we drive on into Study Butte, and hang a right into Terlingua. Alisha stops just outside of Study Butte and gets in the 106 miles and 5 1/2 hours of riding she wanted. So we get to the ghost town of Terlingua and lo and behold, I have cell signal. Not great, but enough to check voicemail. Go figure.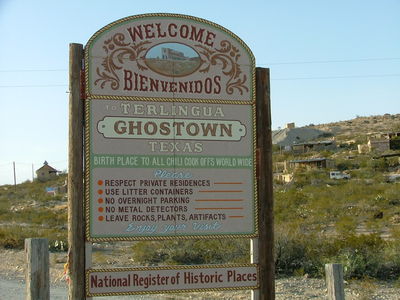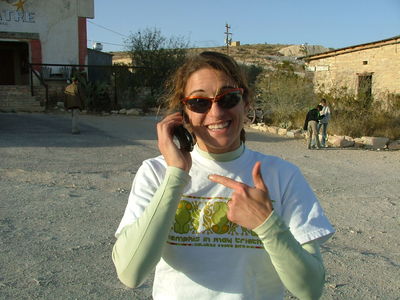 So then the long trek home in the waning light. After dark, there's not a lot to see except the big mule deer on the side of the road making a move to cross right in front of us. Gary, driving, slows and edges the van to the left a bit and the deer matches the move. We hit the brakes and we hit the big 300 lb deer with a huge rack, but not too hard. It runs off. We hope there's not damage to the rental car. Unfortunately, I didn't think fast enough to get a picture. That would have been pretty cool. Had we taken it out, we would have been the envy of the hunter guys staying at the Sproul Ranch where we're staying also.
Maybe 10 miles of south of Fort Davis, I notice the roads are wet and we start to get some sprinkles. We continue on and I realize the rain is beginning to look kind of… WHITE. Oh God. Is it snowing? Yes, it's snowing.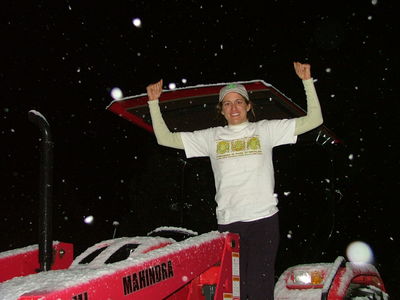 Guess what? It's late as heck after finally getting the internet back up and it's STILL snowing. Tomorrow morning should be interesting. Word is that back at home it's like 70 degrees and nice. Great.
What far flung adventures will we have tomorrow?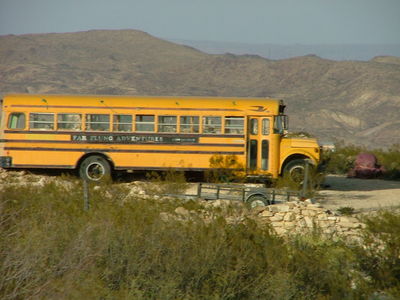 All pics from today are here.