So we're saving the longer Fort Davis to Tirlingua ride for tomorrow. With the building up of the bikes, sleeping in, getting on the internet late morning and all, we just didn't have the time. Which turned out fine. Instead, we did Fort Davis-Alpine-For Davis for a 60-miler. Well, Alisha did the whole 60-miler. More on that later.
First, the play by play. We hit the road, starting with 2.5 miles of jeep trails. Yeah. On the road bikes with fully pumped 23c tires. Nice. I worried my bike would fall apart, so took it easy while Alisha barrelled ahead. I think she was even going 14 mph (hear that Mr. Harper?–WAY fast). See Alisha demonstrate her descending technique below: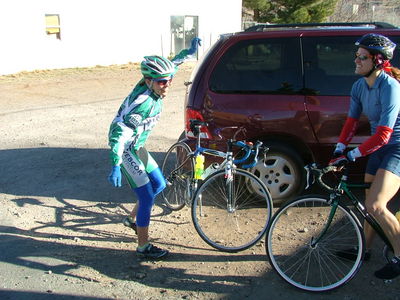 Finally on the pavement, we set off into Fort Davis and out the bottom following Hwy 118 to Alpine. There's not a lot out there, if you're looking for houses and development. What there's a lot of is open sky, scenery and fields and mountains and dude ranches. Very pretty. We have pictures: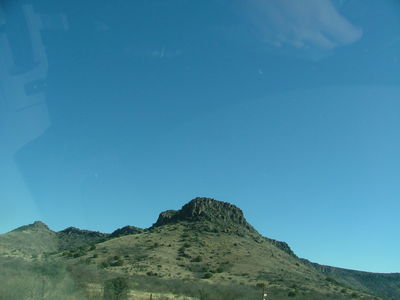 We also have wind. While it was calm in the morning, the breeze picked up to about 20mph with some gusts. Mostly head and head cross winds. We look forward to the return trip, even if it does have some elevation gain. At least the wind will push us and instead of blow us sideways and backwards. In fact, I feel unusually fatigued and a little lightheaded into the wind or anytime I go uphill. Is it the altitude? Ugh.
Later, I check my vitamins and see that I have failed to include my iron supplement with the other pills (Allegra, fish oil, gingko, vit B adrenal supp). Oh, geez. Back when I started working out again (six or so years ago after a long hiatus from athletics), I was feeling icky and went to the doctor. My iron levels are always on the low side so I have to stay supplemented in order to keep up the training. Well, now don't I feel silly! I got some iron in me now and hopefully tomorrow I'll feel better. Atltitude or not.
We roll into Alpine and find the bike store. John takes a look at my bike and the loose spoke Gary told him to check out. Sure 'nuff, it's loose. Maybe it was a good thing I took it easy down the dirt path at the beginning? Hmm? I think so. John's got a cute little bike shop and here's some pics: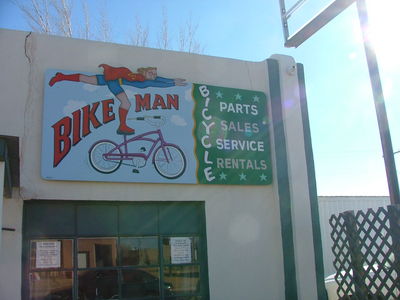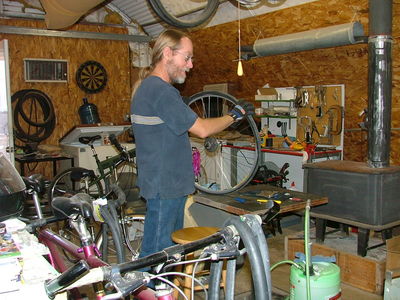 Then Alisha & I modelled some photos in front of the building across the street. Aren't we elegant and sporty all at once? Oh my yes. In one of those, I decide to be all Texasish and sport a cowhorn salute. "Yee-ha!" as they say in these here parts.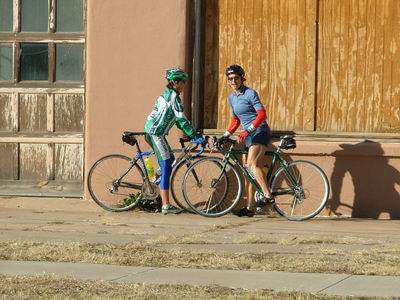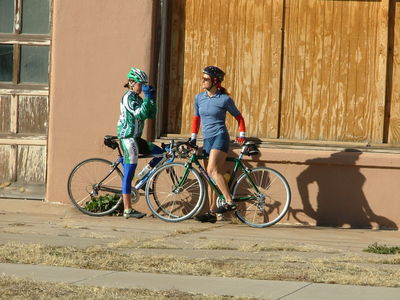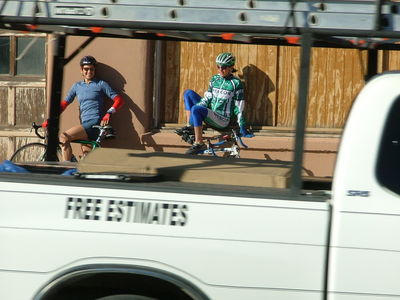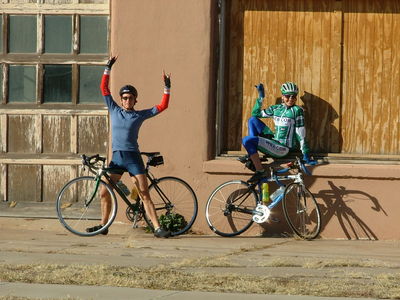 On the way back, the wind pushes us to an easy 22-23 mph pace for several miles until the road turns up over the ridge and curves a little throwing the wall of air back in our faces for periods of time. We ride side by side, with Alisha on the shoulder by a few feet and me barely left of the white line. A police man asks that I ride on the shoulder. Oh, OK. I move to the shoulder and dodge debris, but not artfully enough to dodge whatever sharp, small object caused my front tire to start calling out "psst psst psst psst". My tire starts to feel different. "Hey Alisha, is my front tire flat?" "Lemme see. Yep."
We stop and change the tube and discover the "stone age CO2 cracker" is no longer operable. Oops. We try and call Gary who has my cell phone and don't get an answer – no signal. A police man stops and asks if we need help. Yep. Another one stops too. Off one goes to try and find Gary. Later, he's back. No luck. Meantime, Alisha and I talk with Sgt. Pearson, who has many stories to tell. He's originally from the area, so he's a great resource for info. I'll try and fit some of those stories into other posts. It's getting late. So long story slightly less long– the police man drove me and my bike home and Alisha rode. Gary was there in the shower. Oh well…so it goes with volunteer sag duty.
Tomorrow we run about an hour then ride to Terlingua– it's over 100 miles, but with elevation loss. I hear from the lodge owner that the wind should be at our backs tomorrow. Sweet!
Oh — go here for all the photos from today.
And here for Alisha's post from today.